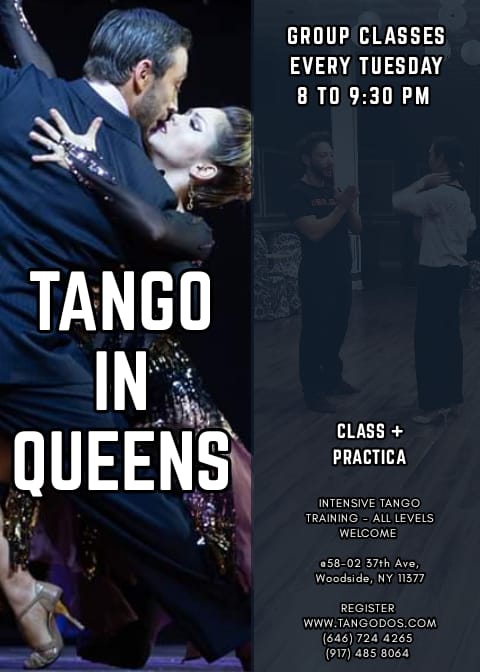 Tango in Queens
Tuesdays in Queens
9:30pm: Dinner and Practica
Description
Tuesday in Queens is an intensive tango training that will focus on a specific topic to develop proper technique and confidence with your self, the music and your partner. Each class includes two teachers for one hour and a half. A demo will be available at the end of the class.
The space is a large dance studio with wood floor and mirrors. Located a few blocks from the R, M train, at the Northern Blvd Station or at 61 St - Woodside train stop on the 7 or LIRR lines. Only 10 minutes away from Penn Station. Google Maps @ D'Haven. 58-02 37th Ave, Woodside, NY 11377
About our teaching
Our primary objective is to convey the feeling of tango. To this end, we have our students learn not only from the repetition of exercises and explanations of theory, but also from the experience of the embrace. We want them to feel what we feel when we perform a movement. We want them to develop physical and mental awareness so that they feel comfortable with their body which translates to a better connection with the music, and their partner.
FAQs
Do I need a partner? Having a partner is not necessary but highly recommended. Not necessary because, Yaisuri and John Hernan both lead and follow. Also, if you are alone, they will guide you to exercise and feel comfortable on your own. Nobody stands and seat and wait in their classes. Your time will not be wasted no matter what. Advisable to have a partner because even where there is so much to work on your own, there will be moments where you want to have somebody to progress and develop your skills. For this reason, it is important to confirm your attendance so we can gender balance the class.

Do you rotate partners? Yes, there is partner rotation. By rotating partners, the student can test their leading and following skills with others as part of the social dance training. However, Yaisuri and John Hernan understands if you want to stay with your partner and will not impose it.
Please confirm your attendance! We are excited and thrilled to have you join our classes.
Cancelation Policy
Monthly pass is valid for 4-consecutive weeks equivalent to 6 hours and 4 classes. Once reserved there are no refunds. No exceptions. Instead, you can give your spot to somebody else or have the credit available towards a private lesson with us if schedule permits.

INVESTMENT
sale